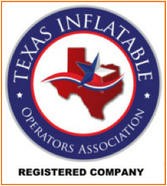 Licensed & Fully Insured

Bounce & Slide Texas
A proud member of the Safe Inflatable Operators Training Organization.
Party Service Area
Arlington
Fort Worth
Haltom City
Mansfield
Grand Prairie
Keller
North Richland Hills
Southlake
Cedar Hill
Colleyville
Grapevine
Midlothian
and many more! See complete delivery area details on Service Area page.
Frequently Asked Questions
You bet we are. It's illegal in Texas to rent inflatables without state inspections and insurance. Unfortunately, there are tons of companies out there that ignore your safety (and the law) and rent inflatable bounce houses without insurance or inspections. If you choose not to rent from Bounce and Slide Texas, please reward one of our competitors for running a legitimate business and choose a company that is insured and inspected.
Can I save some money and pick the unit up at your place?
My insurance agent Sandi would strangle me if she knew I let you "do it yourself". The smallest inflatable bounce houses we have weigh 230 lbs. The larger inflatables weigh close to 500 lbs. All of our employees are trained on how to transport and setup our moonwalks without damaging the unit, your property or themselves. Please kick back, relax, and let us do the heavy lifting.
Oh No it's Raining, now what?
We are pretty lucky in Texas and have great bouncing and sliding weather most of the year. However, every once in a while it will rain on the party day. If it is raining at the delivery time, we will not be able to setup. If there is scattered rain in the area, we will be in contact with you to plan our options. If you decide to go ahead with the party as planned, we will deliver and setup (as long as it is not raining when we get there). If you decide to cancel our delivery, we will work with you. We can reschedule or your deposit will go into our system for up to 1 year as a rain check.
Man it's windy, will that thing blow away?
We use heavy duty stakes when securing our units. However, the power of the wind is amazing. If the wind starts blowing the tops of the trees around and looks to be gusting 20 mph or more, go ahead and get the kids out and deflate the unit for a while. Please use common sense, our 19 foot slide is more affected by wind than our shorter bounce and slide jumper. Have the supervising adult keep an eye on the stakes and use good judgment when unexpected weather comes up.
What does my setup area need to look like?
We will need a fairly flat, clean area with an outlet within 20 feet of the blower (we have generators for rent if we are too far away from an electrical source). Please clean up any twigs, rocks or doggy doo before we get there. We will not be able to setup in an unsanitary area; having to clean doggy doo off our bouncers makes us very sad. We have posted the area needed for setup in each of the unit descriptions. These are actual minimum areas and we will require at least this amount of space listed for setup.
What if I need to cancel for reasons other than weather?
The deposit would go into our system for up to 1 year as a rain check.
© 2015 Bounce and Slide Texas, LLC. All rights reserved. (817) 225-6464