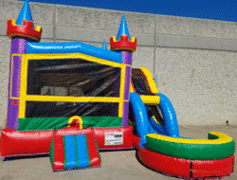 Colorful Castle with Pool
The Colorful Castle with Splashdown Pool and Slide Mister is sure to bring the Wow Factor and fun to your party or event.
T
his castle is 9 feet longer and 3 feet taller than our standard bounce and slide castles. The colors are amazing and like
all of our units, there is so much more to do than bounce.
In addition to great bouncing fun, this unit has a basketball hoop, a climbing feature and a super fun wet slide with a refreshing splash at the end. Check out this video Unique Jumpers sent right before they shipped this castle to us. Look at how small that car looks!

Set up Area: 25'W x 25'L x 18'H